September 21st, 2006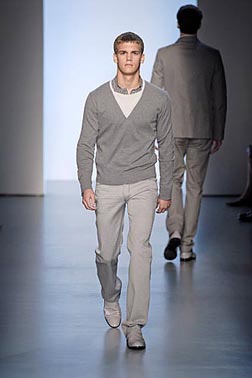 Photo Credit: New York Magazine

Key Takeaways: Layering, narrow silhouettes, and fabrics with sheen were the three hallmarks of the Calvin Klein Men Spring 2007 collection.
Color Palette: Greys and tan were jolted with shades of blue and orange.
Silhouettes: Models strutted down the runway in layered tops–v-neck sweaters over crewnecks over button-down shirts, two-button fitted suits, 3/4 length coats, double breasted styles, blousy tops, shorts, and leggings.
Accessories Report: Models carried tote bags down the runway.
What's Wearable: Love the uber-thin lapels, the fitted two-button suits with a low stance, and the skinny trousers.
What's Not Wearable: Leggings–especially in electric blue.
Entry Filed under: Men,Runway Reviews,Runway Reviews,Trend