September 21st, 2006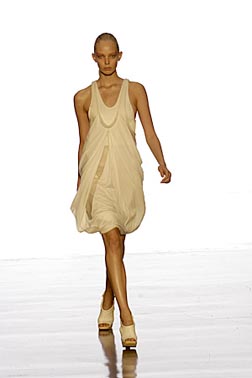 Photo Credit: New York Magazine

Key Takeaways: An overly complex collection that contrasts with designer Francisco Costa's last effortlessly ethereal collection. Floaty, gauzy layers are overworked and sewn into voluminous shapes, from bubble styles to harem pants.
Color Palette: Cream, beige, and yellow are accompanied by metallics.
Silhouettes: Key silhouettes included bubble shapes, fitted sheaths, 3/4 sleeve oversized coats, harem pants, and parkas. Detailing included oversized collars, off-the-shoulder sleeves, U-shaped necklines, and pockets on skirts and dresses.
Accessories Report: Of note were the oversized unstructured bags and ankle boots.
What's Wearable: Despite the tricky bubble silhouette, we love the poufy ethereal dress with multiple layers.
What's Not Wearable: See through garments are generally best left layered or on the runway. Many of the styles read as too complex, with overly worked fabric.

Entry Filed under: Runway Reviews,Runway Reviews,Trend,Women