September 21st, 2006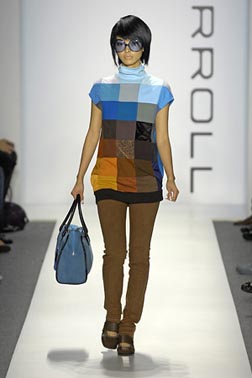 Photo Credit: NY Metro

Key Takeaways: Structured, chic, slick, monochrome or bright? We're having a hard time putting one word to Jay McCarroll's (of Project Runway Season 1 fame) debut solo show after winning back in 2005. (By the way, check out the adorable different colored headphones from his '05 collection.) Having met Mr. McCarroll backstage for an interview, we can see why it'd be hard for him to stick with the neutrals and strict shapes that many of the other designers preferred for this season. We loved that his show spanned the spectrum of literal black to white to yellow to blue to green to a mix, but the varied shapes made it occasionally hard to draw a cohesive sense from the line. Nevertheless, the rooster and helium blimp-prints in varying sizes along with the patchwork feel set this collection aside from others.
On a side-note, no fur was used in this line. Jay paired up with the Humane Society of the United States to reinforce the fact that fur does not need to be obtained from cruel sources. We applaud you, Jay McCarroll! You can see us wearing the red and white heart-shaped "no FUR" button during his interview. As a gift for our loyal Omiru readers, we're giving
away five of these exclusively-designed buttons for the first five commenters on this post — just leave your name and email!

Color Palette: We saw solids in plain black and white along with blends of canary yellow, yellow-green, blues and turquoise and browns separately and sometimes all at once (see image above).
Silhouettes: Mirroring his balloon prints, lean and volume-infused silouettes dominated Jay McCarroll's collection. A bright turquoise tank dress with side detail and an A-line see-through raincoat paraded after a gothic stiff crinoline "Little-Bo-Peep-Meets-Black-Sheep" dress complete with hooded shrug and sheer lace footless tights. Loose, long coats for men came in silver and charcoal black for a true rockstar feel. We took note of cuffed short-shorts, long flowy patchwork dresses, and minis and skinny pants in a variety of colors.

Accessories Report: Watch out! Sunglasses in white, black and smoke and blue (pictured) are here for Spring 2007. We loved the adorable etched flat plastic globes made into necklaces and other accessories and the singularly outrageous bird in a cage looped casually around a model's neck. Male flipflops and flats and wide-strapped heels for women adorned feet in whites and blacks. Bowling and duffle bags in various colors were also paraded down the runways.

What's Wearable: The short-sleeve patchwork dress in the mock-turtleneck with the complementary squares of color is just too gosh darn cute to pass up. Also, the striped off the shoulder sweater works well for Winter '06 along with the calf-length tights in heather grey with three buttons on the side of each leg.

What's Not Wearable: Highly structured and puffed shoulders along with a bee-like black and yellow striped sweater are more theatrical then off-the-runway wearable.
Hear what Jay McCarroll has to say about the Humane Society in our exclusive backstage interview.

Entry Filed under: Men,Runway Reviews,Runway Reviews,Runway Reviews,Trend,Women