September 21st, 2006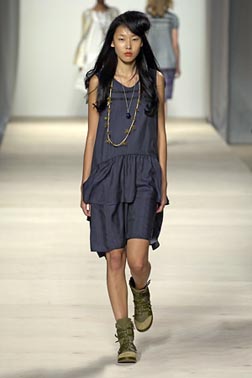 Photo Credit: New York Magazine

Key Takeaways: With themes ranging from 20s glamour and the mod 60s, the Marc by Marc Jacobs collection felt like a microcosm of Fashion Week. Just as the Spring 2007 season is all about pieces–not outfits, the Marc by Marc collection is all about specific looks, not a focused message.
Color Palette: All over the map. Neutrals–olives, whites, and greys–were accompanied by celadon green, grass green, orange, turquoise, yellow, and purple.
Silhouettes: Key silhouettes included mod 60s shifts, drop waist styles, trapeze style coats, cuffed shorts, voluminous sleeves, and oversized tops over dresses. For men, loose pants, shorts, cuffed styles, deep v-neckline styles, three piece suits, and trenchcoats.
Accessories Report: Oversized top-handle bags, caps, long, thin scarves, white-rimmed glasses, long necklaces, and sneakers for women. For men, caps, suspenders, nerd glasses, and sneakers.
What's Wearable: An indigo-navy drop waist shift with a curved waistline ruffle (pictured). For men, we love the three piece suit with sneakers.

What's Not Wearable: For women, a patchwork hippie print dress that confuses the eye with its multitude of patterns. For men, a white deep-v shirt that would feel right at home in the women's collection.
Entry Filed under: Men,Runway Reviews,Runway Reviews,Runway Reviews,Trend,Women