September 21st, 2006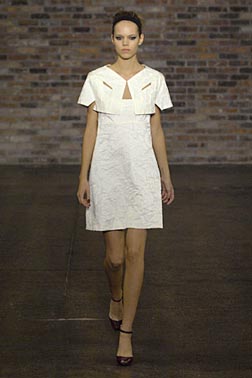 Photo Credit: New York Magazine

Key Takeaways: Narciso Rodriguez's tricky architectural constructions appear somewhat forced–definitely not as natural and fluid as they have appeared in previous years. The collection feels studied, and even a bit stiff as Rodriguez alternates between fitted and slightly looser shapes. Surface details–pattern and metallic sheen–are key for visual interest.
Color Palette: White, black, and grey are joined by rose, blue, purple and orange.
Silhouettes: Key silhouettes for women included high waistlines, empire styles, capelets, babydoll dresses, miniskirts, and trenches. Detailing included flutter sleeves, cutouts, and thick straps. For men, we noted loosely fitted single-button blazers, skinny pants, sleeveless jackets, and shorts.
Accessories Report: Belts played a central role in the collection, with Rodriguez showing what appears to be a corset of belts. We also took note of a thick belt with thin ties at the front.

What's Wearable: The collection is generally wearable, given the right occasion. The styles feel intellectual–perfect for gallery openings and evenings at the symphony. For women, we're crushing on a draped dark turquoise dress with think chain strap and white contrast cutout at front. For men, we're fans of the loosely fitted single-button blazers.

What's Not Wearable: Some outfits have too much going on with the combination of fabric/color blocking, pattern, and shape. However, we could see many of his individual pieces as perfectly wearable. Rodriguez's expertise is creating clean lines and unfussy shapes–this collection didn't play to his strengths.
Entry Filed under: Men,Runway Reviews,Runway Reviews,Runway Reviews,Trend,Women