September 22nd, 2006
It's easy to get runway recaps from NY Metro or Style.com, but Fashion Week is really about what happens behind the scenes (or seams). Omiru gives you the scoop from New York Fashion Week.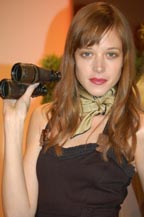 Fact #1: After every single show, the runway gets re-painted white to ensure that each designer is working with a catwalk that looks brand new.
Fact #2: Sometimes the size 0 clothes are still too big for the stick-thin models. Case in point: At the Rachel Comey show, one model's tube top came down, revealing everything. And even after she pulled the top up, it fell down again. Luckily she was on her way back from the paparazzi mob.
Fact #3: Fashion week is kind of like high school. There's a definite hierarchy, and you know your place as soon as you step through the door to the tents.
Fact #4: After you check in for a show, you either get a seating assignment (if you're lucky, the designer's PR people called you in advance with your seat assignment) or, if you're in the bottom of the hierarchy, a 3×5 card with an "S" or "ST" on it for Standing Room.
Fact #5: This year's swag bags had everything you need in them: MAC eyeshadow, lipgloss, and lip conditioner, Havaianas flip flops, an umbrella, fruit water, mascara, and tons more.
Fact #6: Keep your eyes open because at any moment, a celebrity can pop up in front of you. Melody saw E!'s Bobby Thomas and while mouthing Bobby's name, she saw Melody and waved! She was super sweet and so petite in person.
Fact #7: Celebrities look much thinner and tinier in person.
Fact #8: People cut in line all the time. Fashion Week, like any traumatic event, tends to bring out the Best…or, more often, the Worst in people.
Fact #9: Well, this isn't a secret, but New York Fashion Week really inspires people to put their best foot forward, and there are some sharp dressers out there. Let us tell you, some of these old rich ladies look better than the youngens.
Fact #10: It's hard work but somebody's gotta do it! Fashion looks glamorous on Style.com and in New York Magazine, but behind the scenes, it's a lot of schlepping stuff, aching feet, and tired eyes. But in the end, it's all worth it…and then some!

Entry Filed under: Off Topic