September 22nd, 2006
Looks like we're all still recovering from Fashion Week–I only received one response to my Carnivale question:
What's your favorite trend from the Spring 2007 runway?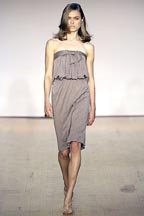 Ali from Papierblog responded with a thoughtful post full of eye candy about Pleating, which "can give just the right amount of swing to a skirt, flair to a silhoutte, or definition to a bodice." Gorgeous examples of pleating were shown from the runways of Michon Schur, Dragana Ognjenovic, Jason Wu, and Costello Tagliapietra (pictured, right, courtesy of Papierblog).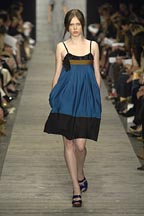 As for us, our fave Fashion Week trend is Dresses with Pockets. We're crushing on the Dresses with Pockets for their inherent utility (Why tote around a purse when you don't have to?) and the beautiful constructions we've been seeing this season. Pictured at left is our favorite Dress with Pockets from the Spring 2007 shows, designed by Derek Lam (courtesy of New York Magazine).
Entry Filed under: Off Topic,Trend,Trend Predictives,What's In and What's Out