September 25th, 2006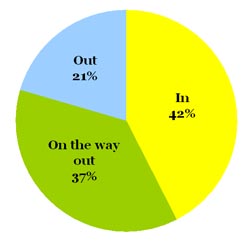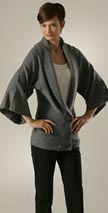 We asked: Are Kimono Sleeves In or Out?
You said: Kimono sleeves are past their moment on the spotlight. 58% think this trend is either Out (21%) or On the Way Out (37%). On the other side, a slight minority, 42%, believe Kimono sleeves are In.

Omiru's take: We appreciate that today's kimono sleeves expand beyond their Asian roots to embrace thoroughly modern styles. But despite their ubiquitous presence on the Spring 2007 runways, kimono sleeves don't seem to be exceptionally popular with the Omiru crowd. Really, we could go either way on this trend, but we do offer up the following caution: choose styles with low to moderate volume.
Next Question:
The perfect addition to an evening ensemble, capes and capelets have graced the runways for the last two seasons. But what do you
think? Tell us, are Capes and Capelets In, or are they Out? Cast your
vote on the sidebar!
Pictured: Ya-Ya Snap Kimono Cardigan | $390 at Shopbop.

Entry Filed under: Trend,Trend Predictives,What's In and What's Out,Women