September 26th, 2006

The holidays are months away, but it's never too early to start wrapping yourself — in wrap-dresses!
As our reader poll indicated, wrap dresses are here to stay, so you might as well make the transition from summer to fall a stylish one. Unlike Summer wrap dresses, Fall's dresses work better in darker shades and worn with chic boots. Behold our favorite wrap dresses to get you started on your Fashionable Fall Journey.

Our $$$ Pick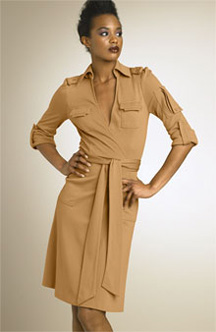 Entry Filed under: Trend,Trendscape,Trendscape,Women