September 28th, 2006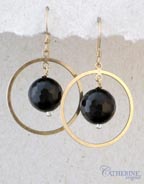 Designer Cathy Jordan paired these beautiful faceted onyx stones with sterling silver and gold filled hoops to evoke a "mod" 60s look. Stylish, yet simple, the Onyx Hoop earrings are one of Cathy's best selling styles.
With 70s and 80s retro looks coming back into fashion, Cathy recommends pairing the earrings with a short skirt or skinny jeans and high boots.
Why Cathy rocks our world: When she was pregnant, her water broke in the middle of the night, and her husband was in New Orleans on business. So, instead of calling a friend to pick her up, she drove HERSELF to the hospital. Gotta love a girl with guts.

$34 at A Catherine Original.
Entry Filed under: $20-$50,Women,Women's Accessories