October 1st, 2006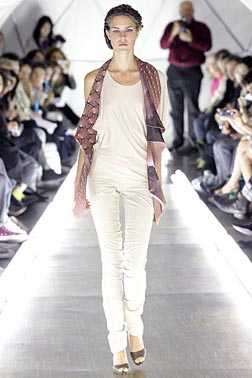 Photo Credit: Style.com
Key Takeaways: Asymmetry is everywhere in this collection; it's evidenced in revealing bathing suits, frilly frocks, and skirts. Volume, the major trend during Fashion Week, was barely seen on Three As Four's runway, however. Here, the scene was more about form-fitting articles, though the collection flirted with the idea of controlled volume.
Color Palette: Black, beige, white, grey, light pink, olive green, midnight blue, lavender, and teal.
Silhouettes: Asymmetry characterized most of the outfits on the catwalk. We took note of: sheer one-piece bathing suits and bikinis, loose jersey tops, palazzo trousers, parka jackets, halter dresses, skinny pants, pantaloons, skirts, and boy shorts.
Accessories Report: Accessories were kept to a bare minimum. One long patterned scarf was seen, as well as peep-toe slingback shoes.
What's Wearable: We noted an equal number of wearable and non-wearable items in this collection. Especially wearable (to a cocktail party) is the chiffon halter minidress. What makes this dress different? The halter was contructed with a gold chain.

What's Not Wearable: Some of the asymmetrical garments are too extreme for the streets. Especially unflattering is a chiffon skirt, where one side is a miniskirt and the other reaches below the knee.
Entry Filed under: Runway Reviews,Runway Reviews,Trend,Women