October 2nd, 2006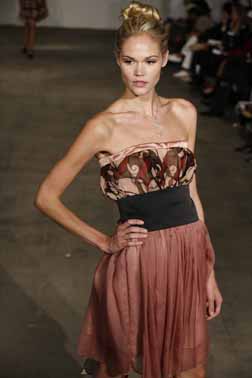 Photo Credit: Tamara Pogosian
Key Takeaways: Tamara Pogosian loves dresses. Every article for women was a feminine (and sometimes bold) frock. The men on the runway exuded classically modern style with blazers worn over fitted tees and polo shirts.
Color Palette: For women: maroon, black, and olive green, with a punch of bright blue, lime green, light gold, teal, peach. Basics for men: grey, light blue, black, white, and beige.
Silhouettes: For women: Strapless styles, cinched waists, voluminous skirts, controlled volume, halter styles, and off-the-shoulder tops. For men: fitted polo shirts and tees, tailored blazers and trousers.
Accessories Report: For women: 3-tiered gold necklace, dangly delicate earrings, beaded teal necklace, long gold necklace. For men: medium width belts.
What's Wearable: All of the men's items were ultra wearable. All the women's frocks can be easily translated onto the streets as well. Especially wearable is a Marilyn Monroe-esque white halter minidress.
What's Not Wearable: The only dress that may be hard to wear because of its sheer nature is black with a chiffon bodice and silk bottom.
Entry Filed under: Runway Reviews,Women