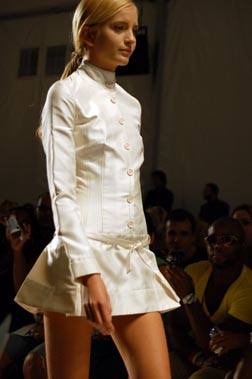 Photo Credit: Omiru: Style for All

Key Takeaways: Designer Dragana Ognjenovic showed an intellectual collection in black and white filled with gorgeous constructions. Controlled volume featured prominently in Dragana's tightly edited collection.
Color Palette: Neutrals: black and white, tempered with beige.
Silhouettes: Voluminous dresses and belted cape-style coats accompanied tulip skirts and straight legged pants. Flutter sleeves, shirring, ruching, pleating, and ruffles added to the controlled volume story.
Accessories Report: Thick belts and shawls finished off the intellectually minimalist looks coming down the runway.
What's Wearable: A short sleeved white stand collared dress, and a tailored jacket and short skirt combination with buttons running down center front (pictured).

What's Not Wearable: Some of the draped tops were on-target for the runway, but too theatrical for the streets.
Add comment October 3rd, 2006