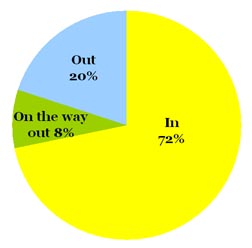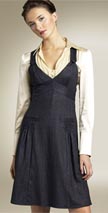 We asked: Are Dresses with Pockets In or Out?
You said:They're In! 72% of you voted these functional fashions In, and only 20% voted them Out. The remaining 8% voted Dresses with Pockets On the Way Out.

Omiru's take: Dresses are The Hot Silhouette for Fall, so it pleases us that you appreciate the combination of fashion and function as much as we do. This trend has been floating around for awhile; we first reported on Dresses with Pockets back in February. But though the trend has been in circulation for months, it's far from falling from favor. Wear Dresses with Pockets to work, paired with a blouse (pictured). Or wear the trend to your next evening Gala. Amy Adams and Maggie Gyllenhall, and Sandra Bullock all sported pocketed styles at the Emmys! What could be chicer?

Next Question: As Summer fades into Fall, we're switching out our sandals for boots. Tall boots. But what do you
think? Tell us, are Tall Boots In, or are they Out? Cast your
vote on the sidebar!
Pictured: Nanette Lepore 'Party Time' Jumper | $260 at Nordstrom.

5 comments October 9th, 2006