October 25th, 2006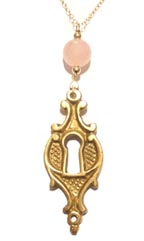 When a few fellow indie designers had suggested coming together to create a unique campaign for October's Breast Cancer Awareness Month – Jen of Juniper Designs quickly jumped on board – what resulted was Indie For Awareness. Jen created the Hope necklace specifically for this campaign, choosing the keyhole design for it's overtly feminine connotations and the rose quartz for its healing properties as well as its hue!
Fun fact about Jen? She sips tea every afternoon in a delicate little cup while rocking to the likes of the Ramones and Sex Pistols!
Until the end of October, 50% of the proceeds of the sale of this necklace will be donated to the Susan G. Komen Breast Foundation.

$85 at Juniper Designs.
Entry Filed under: $50-$100,Women,Women's Accessories