October 26th, 2006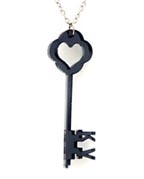 Fascinated by keys, designer Tiffany Lee was inspired to create the Heart Key necklace.
She recommends pairing the necklace with cotton or linen button down shirts with frills, lace, or neck scarves. Tuxedo style blouses, high necked knitted wrap dresses, or even simple low-necked tee shirts would also do this necklace justice.
Little known fact about Tiffany? She has an obsession with food as fashion–and loves Jeremy Scott's junk food collection. Says Tiffany: "I painted watermelons on my shoes, I have watermelon and banana necklaces in my line, I have a skirt with a burgers and fries print."

$46 at Le Fashionista.
Entry Filed under: $20-$50,Anniversary,Birthday,Women,Women's Accessories