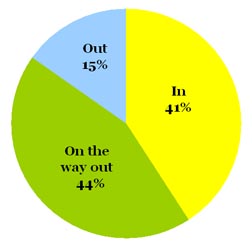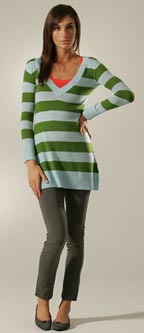 We asked: Are Striped Tops In or Out?
You said: You're getting tired of the whole Striped Tops theme. A slight majority (59%) voted them Out or On the Way Out. Then again, 41% are still behind this classic pattern.

Omiru's take: Striped Tops are vanilla. They're boring. They're everywhere. And while they're a part of almost every wardrobe, we don't think that they deserve to be placed front and center. We like the idea of Striped Tops, but we would rather place the focal point of your outfit elsewhere. Perhaps a fun accessory, a stunning coat, or a great skirt that shows off a little leg (despite the falling temperatures). Same goes for men…minus the flirty skirt!

Next Question: Has casualwear taken over the workplace, or is there still room for fine tailoring by the watercooler? Tell us, are Suits for Work In, or are they Out? Cast your
vote on the sidebar!
Pictured: C&C California Striped A Liner Tunic | $245 at Shopbop.

2 comments October 30th, 2006