Jessica Elliot literally grew up in the middle of the entertainment industry. Living smack dab between Donald Sutherland and Robert De Niro, Jessica went to school and summer camp with the likes of Gwyneth Paltrow, Kate Hudson, and Sean Astin. Her Hollywood roots pushed her towards acting, but after dabbling in movies, she soon gravitated towards her true calling: jewelry design. Read on to get a backstage view of Jessica's life as a designer.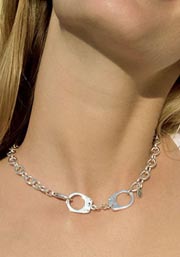 Omiru: You dabbled in movies before moving into jewelry design. How did your time in the entertainment industry shape your sense of style?
Jessica: I got a few small parts in classics like Hellraiser V, but I think things have a way of working out the way they're supposed to. I knew I wasn't the next Cate Blanchett, and what I really needed was something to channel my creativity into, and I found it in jewelry design. As far as style in the entertainment industry, I was always interested in fashion. I watched the Oscars and the Emmy's for the clothes and jewelry rather than the actual awards. As for how the entertainment industry shaped my style, I always loved old Hollywood—the flawless glamour that always seemed so effortless. I'm working on a lot of vintage inspired pieces for my spring line.

O: How did you decide to pursue jewelry as a business?
J: I was making jewelry as a hobby, for my friends and for myself. At the time, I was waiting tables, and just about every night someone would buy one of my necklaces right off my neck. So I started bringing piles of jewelry to work with me. One day I realized I was making more money from the jewelry than I was from waiting tables…so I quit.
O: What makes your jewelry special?
J: I mix a lot of opposites to give them life—masculine and feminine, gold and silver, oxidized and polished, delicate and bold. I feel more and more inspired every season– I think I learn a bit more with everything I make.
O: Your jewelry has been featured in hit TV shows, ranging from Friends to Desperate Housewives. How did you make that happen?
J: Some wardrobe people and stylists have just found me—tracked me down and come to me for jewelry. I also have a woman I work with who sells my line directly to these shows.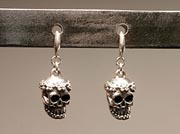 O: 5 Things you love about LA.
J: I love traveling the world for inspiration, but I also give a lot of credit to my LA, my home. I love that you can see mountains, desert, beach, and city all within an hour drive. I love the broad cultural mix. I love the food choices. I love the pace—slow if you want, fast if you want—depending on your mood. I love my friends. I love the diverse style.
O: You only took one class in metal fabrication, with no further training in jewelry design or fashion. How did you become the designer you are today?
J: Designing is an ongoing learning process— I feel like I grow as a designer every day. When I took that one class, it got me excited about being creative with my hands. That's how I work— I'm much more tactile than I am visual. I design by doing, not by thinking. The class was something I just took for fun, and it helped me find this random hidden talent I never knew I had. As far as the actual designing goes, the ideas just kind of come. I'm inspired by everything I see. I get a lot of ideas when I'm traveling— I've been some amazing places and plan to travel to many more. I've been inspired by my travels to Turkey, Thailand, Cambodia, Cuba, Morocco, all over Europe, and more. My next big trip is to Bali.
O: How about family influences?
J: I also just happened to grow up surrounded by artists. My entire family is self-employed in creative fields. My mom is an artist/graphic designer, my stepfather is a photographer/exhibition printer, my stepmother is a graphic designer, my dad was a musician—and now an art dealer, and my sister is a chef. I never thought for a second that I would grow up and have an office job—and I was right.
O: What's the best piece of advice you've received?
J: Never go to bed mad.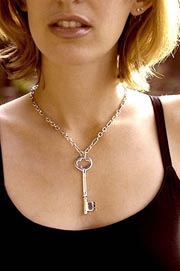 O: What's your bestselling piece of jewelry?
J: My Antique Keys.

O: How about your current favorite piece?
J: I have several: a long gold double leaf necklace with silver mini charms, a long open clover tassel necklace, a flaming heart necklace.
O: What jewelry trends do you think will be huge for spring?
J: Vintage-inspired, big medallions, pearls, mixed metal.
O: What trends do you wish would just go away?
J: In clothing and shoes—Balloon skirts, shoulder pads, and platform flip-flops. In Jewelry—"horn" jewelry and big wood beaded jewelry.
O: What's on your radar?
J: Buying a house.
O: Little known fact about you?
J: I'm a bit superstitious.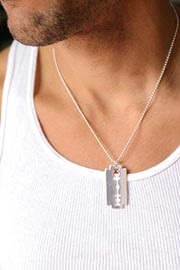 O: Best weekend escape?
J: Mexico.

O: Favorite music?
J: 80's music.
O: Current obsession?
J: Knee-high boots that lace up.
O: Best Fashion Tip?
J: Don't try too hard, and accessorize.
O: Where can we buy your jewelry?
J: At my website, Nordstrom, Bloomingdales, Henri Bendel, and about 150 boutiques around the country.
O: Last Words?
J: Seize the day, embrace life, and appreciate your friends.

Shop Jessica Elliot's jewelry collection at www.jessicaelliot.com.
1 comment November 2nd, 2006