November 6th, 2006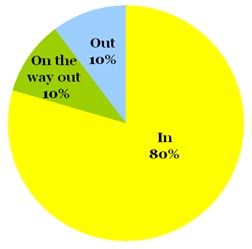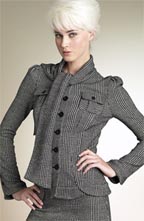 We asked: Are Suits for Work In or Out?
You said: Long Live Business Formal! 80% of you are behind the workwear staple. Only 20% (equally divided) think Suits for Work are Out or On the Way Out.

Omiru's take: Anything that encourages people to dress up at work puts a smile on our faces. While we like the freedom of Casual Friday Everyday, we also appreciate the formality of traditional workwear. Here at Omiru, we're all about Polished looks, both casual and formal, but wearing a suit to work makes polish just *that* much easier. To keep the look up-to-date, look for tailored suits with a unique touch–a special collar, a beautiful closure, or even a decorative peplum.

Next Question: Trapeze shaped jackets, dresses, and tops are the Next Big Thing…at least on the runways. But what do You think? Tell us, are Trapeze silhouettes In, or
are they Out? Cast your
vote on the sidebar!
Pictured: Diane von Furstenberg "Mele" Knit Jacket | $425 at Nordstrom.

Entry Filed under: Trend,Trend Predictives,What's In and What's Out,Women