November 9th, 2006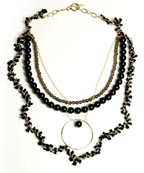 Looking through old photos with her mom, designer Taylor Conner was inspired to create the Miram necklace. "My mom used to tie ribbons in my hair when I was a kid, and I was inspired to bring some of the playfulness of childhood into my work."
Taylor believes that jewelry should be inherently versatile, and she recommends pairing the necklace with anything from a wear-to-work suit to a wifebeater and jeans.
Goofy fact about Taylor? She can't walk on moving escalators. She gets freaked out and has been known to fall over!

$180 at Polished Lemons Luna Collection.
Entry Filed under: $100-$250,Anniversary,Birthday,Women,Women's Accessories