November 16th, 2006

Jewelry designer Brooke Medlin wants people to describe her work with an "Ohh, Wowww!" But perhaps with another 'W' or two. Her organic metal designs surely elicit oohs and ahhs, both for their inherent beauty and for their affordable prices. From her home in Dayton, OH, she spoke to Omiru about her first love (Metal), her fashion Dos and Don'ts, and why flat shoes should stay in style Forever.


Omiru: How did you first get into jewelry design?
Brooke: I've made jewelry since I was a kid - I remember being verrrry proud of my clasps made from fishing swivels. I sold my first piece to a store when I was 18 and living in Chicago - a simple, beaded necklace that sold for just enough that I could buy more beads. When I was 20, I became more seriously interested in jewelry making, and thanks to my friends' advice, I began to approach stores and slowly built my business from there. I am constantly looking for new mediums in which to dabble. Metal is my first love, but I am so drawn to color…you can expect to see some enamel and resin pieces on my site soon!

O: In a nutshell, describe your design aesthetic.
B: Metal and Color. I love combining organic, handworked metal with vibrantly colored glass. Hammered textures with high gloss = Perfection.

O: What trends do you think will be huge for Spring?
B: Dark denim skirts with low, slouchy suede boots, because that's pretty much all I'm planning to wear. I also hope the tendency towards long, layered, drapey clothing continues. I like to cover what needs to be covered, while avoiding frumpiness. Flat shoes need to stay in style forever - who do I call to make that happen?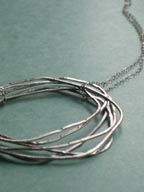 O: What trends do you wish would just go away?
B: Please don't communicate with me through the seat of your pants. I need not know if you are 'Sexy' or 'Juicy'.
O: What's on your radar?
B: I would love to see more bike friendly cities - my dream life is biking to my (hopefully few) errands in a small city by the ocean. Until then, I'll take biking to the post office and grocery in a dedicated bike lane. In fantastic pants.
O: How about your favorite piece from your collection?
B: The Delicate Dish Earrings are my current favorite. The earrings combine little concave sterling discs - which I heatform until their shape just begins to give way - with uniform teardrops via balled rivets that allow each component to move separately. I give the earrings an oxidized finish, then burnish them lightly in selective places, which gives them a great, soft glow.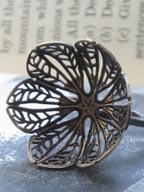 O: Best Fashion Tip?
B: Wear the comfortable shoes. Trust me.
O: Fashion Dos:
B: For the love of Maude, be yourself! Wear the pants that fit, the shoes that won't let snow slosh in and settle, and the big hair that everyone is jealous of! I think you're beautiful.
O: Fashion Don'ts:
B: Don't try too hard. Don't spend half an hour in your closet forcing yourself to find something other than black shoes to wear with that outfit. You love those black shoes. Wear them. (But think about the colorful headscarf, yeah?)
O: Little known fact about you?
B: I have an imaginary friend…or three. (Hi, guys!)

O: How would your best friend describe you?
B: I had to pick through the sappy bits from the email my boyfriend (and best friend) sent me. Having done that, I'm left with: "Even though she may sometimes smell, she is truly my inspiration." Thanks, babe.
O: 5 Things you like about your hometown, Dayton, OH:

Flavors Eatery - Best food in Dayton.
Shrug - Nice boys , excellent music.
Riverbend Art Center - Where I learn and teach.
Mendelson's Liquidation Center - Run, don't walk! Go now!
The Little Miami Scenic Trail - I love my bike, and I love this path…and only partly because HaHa Pizza is the perfect stopping point!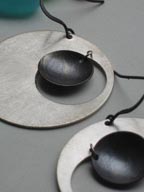 O: Where can we buy your jewelry?
B: Online, I can be found at Orange Button, Imogene, and my own website. I try to give each online shop different items, so be sure to visit each one! For a list of retail stores in which to find my work, go here.
O: What can we expect next from you?
B: Glossy resin in my familiar, organic shapes. Look for seashells…and teeth! More castings, more enamel. More color!
Can't get enough of Brooke? Shop her latest collection at http://www.brookemedlin.com.
Entry Filed under: Designer Profiles,Features