November 16th, 2006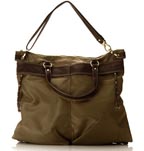 Ben Harnett was inspired by a WWII Helmet Bag, which evolved in a spell of 3am creativity into a bag that does more than double duty.
What to pair the bag with? According to Harnett, the versatile tote goes with anything and everything–from sweats to YSL.
Something you didn't know about Hayden-Harnett? The company was started on April Fool's day by two hardworking people and a slightly less hardworking cat. But they're no joke.

$193 at Hayden-Harnett.
Entry Filed under: $100-$250,Women,Women's Accessories