November 20th, 2006
No matter what the season, bikinis are always in style, and More Swimsuits has just the collection of bikinis to keep you looking sexy this winter. Whether you're heading out on an exotic cruise, planning your honeymoon, or just dreaming of warmer days on white, sandy beaches, check out this swimsuit outfit to keep you well suited for any beachwear occasion this winter (and summer).
Fashion Formula =
Designer Bikini + Beaded Tunic + Sexy Bare Skin.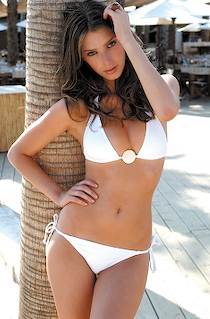 Melissa Odabash Solid White Triangle & Tie Rio Bikini
| $139 at
More Swimsuits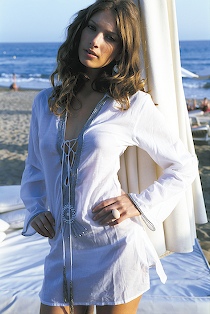 Melissa Odabash Apple-Stitched Tunic Dress
| $160 at
More Swimsuits

At More Swimsuits, you have access to the hottest designer bikinis and accessories–at any time of the year–from the convenience of your home computer. You can read fashionable style tips to help you find the best bikini for your specific body type or find expert advice on how to care for your swimsuit to keep it looking and fitting great throughout the season. For even more fun swimsuit facts and tips, check out one of these sites where you can read the history of the bikini or delve into more detailed swimsuit shopping and fashion information. Don't wait until summer to take advantage of amazing swimwear fashion!
Entry Filed under: Advertising,Ready Made Outfits,Women