November 20th, 2006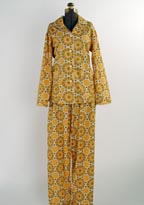 Coco Chanel once said, "Innovation! One cannot be forever innovating. I want to create classics."
Like Chanel, designer Capri Rose is all about creating classics. Inspired by her love of vintage textiles and wallpaper patterns, Capri designed her Tunisian Moon Pajamas, a feminized, modernized version of a pair of pajamas her father wore in the 1970s.
Fun fact about Capri? She thinks that gefilte fish is a culinary delight.
Thanks, Lela, for the tip!

$86 at Capri Rose.
Entry Filed under: $50-$100,Women,Women's Fashion