November 27th, 2006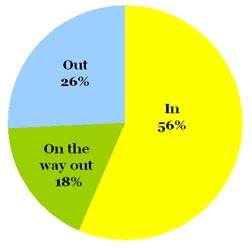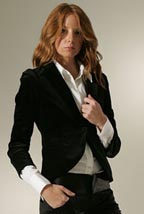 We asked: Are Velvet Jackets In or Out?
You said: Pull one on for the holiday party. 58% are all over Velvet Jackets. 18% and 26%, respectively, believe they're On the Way
Out and Out.

Omiru's take: Velvet Jackets are an easy way to take your look from standard to snappy. We're fans of the tuxedo look in particular–updated for this season with a cropped sleeve and snug fit (pictured). Wear your Velvet blazer with tuxedo pants, trousers…or even denim.

Next Question: Green is a classic holiday color…and perhaps the Next Big Thing. Tell us, is The Color Green In, or is it Out? Cast your
vote on the sidebar!
Pictured: Theory Bobby Adore Velvet Blazer | $395 at Shopbop.

Entry Filed under: Trend,Trend Predictives,What's In and What's Out,Women