With a zest for life that extends from the racetrack to the clothing rack, Lisa Kline isn't the kind of woman who likes to take it slow. In a city that prides itself on its laid back vibe, the avid racecar driver is speeding towards success, however you measure it. In the past year alone, Lisa oversaw the opening of three of her eponymously named boutiques—and gave birth to a brand new baby. Read on to get a glimpse of life in the fast lane, from Lisa's foolproof outfit to what she loves about LA.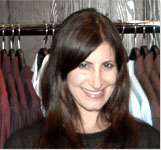 Omiru: How would you like people to describe your stores?
Lisa: Comfortable and welcoming. I've designed my stores to feel like a home—warm, friendly, and easy to shop.

O: Who are you buying now?
L: Our Beverly Hills store just opened a couple of weeks ago. For women, I'm buying Johnson (shorts), Miguelina, Bailey 44, Rachel Pally, Cynthia Vincent, and Charlotte. For men, I'm buying Ever, Fred Perry, Theory, Modern Amusement, Salvage, Chip & Pepper, and LA Denim.

O: Current bestsellers?
L: For women, Rebecca Taylor, Splendid, Robert Rodriguez, Ingwa Melero, Juicy Couture, Chip & Pepper, and Joe's Jeans. For men, Splendid, Ever, Modern Amusement, Theory, and Juicy Couture Men's.
O: What do you buy for the girl who has everything?
L: A Botkier purse. Straight-legged denim. Shorts—perfect for wearing with a tunic dress. A cool belt. Fun jewelry.

O: How about for the guy who has everything?
L: A cashmere sweater from Autumn Cashmere. Black or grey denim for Spring. Or jewelry—a wallet chain, money clip, bracelet, necklace, or cufflinks.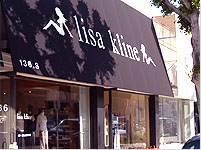 O: What trends do you think will be huge for Spring?
L: For women, dresses—especially minidresses and tunics. Great tops that are long enough to be a dress, paired with shorts and high heels or boots. Skinny legged denim. Leggings. Belts. 80s infuences. Patent leather accessories. Miniskirts.
For men, western influences, rocker looks, and straight legged jeans.
O: What trends do you wish would just go away?
L: None. I really love all the trends that are happening now!
O: 5 Things you like about LA?
L: It's a beautiful place to live with great weather and no seasons. You can take risks. There's room to be creative. It's hip and fashion forward. It's a place where dreams come true.
O: 5 people whose wardrobe I'd love to raid:
L: Cameron Diaz, Kate Hudson, Paris Hilton, Jennifer Aniston, and Halle Berry.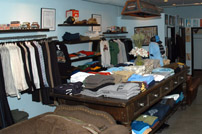 O: Best Fashion Tip?
L: Wear what makes you feel comfortable, even if it's not the trend.
O: Your foolproof outfit?
L: Jeans, a sexy top, a sweater, and heels. Oh, and a killer purse.

O: Little known fact about you?
L: I like to race cars. I'm also a mom with two kids.
O: Last Words:
L: If you have a passion and a dream, go for it.

Shop Lisa Kline's boutiques from the comfort of your own couch at http://www.lisakline.com/.
1 comment November 30th, 2006