December 7th, 2006

Armed with a bundle of t-shirts, scissors, fabric glue, and appliqué, Melody Kulp and her partner (and now fiancé) David Reinstein founded Sweetees in 2002. Four years later, Melody Kulp's line of of effortlessly luxurious tees, sweaters, and dresses is firmly entrenched in the young contemporary market—and in the closets of celebrity style icons from Sarah Jessica Parker to Beyonce Knowles. Read on for Melody's Fashion Do's and Don'ts, where she finds her design inspiration (travel), and how she met her partner in work and life.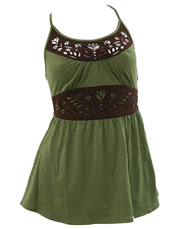 Omiru: How would you like people to describe Sweetees?
Melody: Fresh. I love it when a customer says, "Oh my gosh, I haven't seen that anywhere else." I feel it's my job to create something that doesn't exist necessarily or something that others aren't selling. We're a fun, girly, colorful, happy brand.
O: Design influences?
M: I get inspiration from travel. I love seeing all the different cultures—the artisans, the colors, prints, and embroideries. I'm not one to look at what everyone else is doing. I'd rather go off of my intuition rather than follow the runways. Why? Everyone else is following the runways.
O: Favorite travel destination?
M: I don't think I could pick just one. South America. Mexico, for their colors and embroideries. India has beautiful colors and fabrics. Morocco has amazing cool stuff that's different.
O: You work with your fiancé at Sweetees. How'd you meet?
M: We met while traveling. We were both part of the Semester at Sea program, a university on a boat that travels all around the world. We traveled to fourteen countries, but we were both from the same place.
O: What's it like working with your fiancé?
M: Really good. He and I work on totally different aspects of the business, so it works out. We're not stepping on each other's toes—we're filling each other in.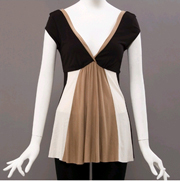 O: How do you separate work and life? Or do you?
M: It's still a work in progress. We try to discuss other things when we're not at work, but work and life bleed into each other. We manage to make it work. At the beginning, all we did was talk about work. Now, we strike more of a balance.
O: What's your current favorite piece from your collection?
M: I really like our rib and chiffon group. You can dress it up and dress it down. It's daywear, but the chiffon makes it dressy.

O: What do you like about LA style?
M: It's laid back, but not too laid back. There's a balance.

O: What do you love about LA:
M: I love the subcultures in LA. On a weekend, you can go to Olvera Street and feel like you're in Mexico. You can go to Little Tokyo and feel like you're in Japan. The subcultures are all so close to each other, but they're not mixed.
O: Celebrities love Sweetees. Turning the table, though, whose wardrobe would you love to raid?
M: Gwyneth Paltrow or Angelina Jolie.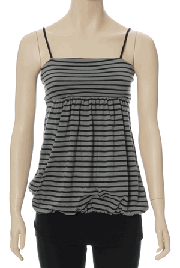 O: Fashion Dos:
M: Scarves. Accessorizing outfits correctly, putting things together well. Layering in the right way. A great handbag and shoes.
O: Fashion Don'ts:
M: Tucking your shirt in. Hiking your pants up too high. Trying too hard and going overboard. Being a fashion victim. It has to be organic and natural to you. Don't be something you're not.
O: Little known fact about Sweetees?
M: It was started when I was in college at age 19 by two young entrepreneurs.

O: Where can we buy Sweetees online?
M: Find Sweetees online at ShopIntuition.com, RevolveClothing.com, and LisaKline.com.
Pictured (from top): Suede Cami ($119), Gianna Top ($86), Gaston Top ($79).

Entry Filed under: Designer Profiles,Features,Women