December 11th, 2006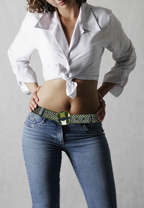 The Perfect Gift For: The Hipster Woman who doesn't wear belts because they're (1) uncomfortable, (2) boring, or (3) made of leather.
What makes Yosifa Penina belts so special? They're made of a unique material that is flexible, waterproof, and washable. Designer Jules Sherman employs a special molding technique that makes a 3D pattern for added visual interest. And even better, no animal products are used in the creation of her designs.
What's next from Yosifa Penina? A line of laptop bags, purses, and luggage tags, due out next summer.

$45 at Smashing Darling.
Entry Filed under: $20-$50,Women,Women's Accessories