December 21st, 2006
Is a degree in fashion design an asset or a liability? While most designers consider formal training a benefit, Rosie Wolfenden and Harriet Vine believe that it would have prevented them from starting their jewelry line, Tatty Devine. A favorite of Vogue, and a regular at Fashion Week (London, and now New York), Tatty Devine enjoys a devoted international following for their delightfully eccentric necklaces, bracelets, and earrings. Read on to hear about Rosie's take on the London fashion scene, her current obsessions (including Chanel black nail varnish), and what's next for the design duo.
Go on, immerse yourself in the world of Tatty Devine.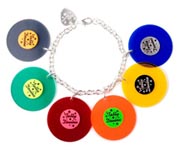 Omiru: In a nutshell, describe Tatty Devine.
Rosie: Tatty Devine is Eccentric, Eclectic, English and Exciting!

O: What are your design influences? How did your art school background affect your aesthetic?
R: [Harriet and I] are both influenced by so many things. Old films, music, books, memories, each other, our friends. I think the fact we went to art school has a massive effect on our aesthetic. If we had gone to fashion college, I don't think we would ever have started Tatty.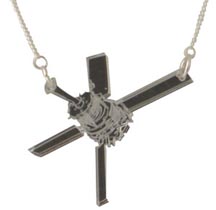 O: What are your favorite piece(s) from your current collection?
R: I really like the great bear brooch, the satellite necklace (pictured, right) and the red balloon necklace.

O: What do you like about London style?
R: That it changes all the time. The mix of new and old. People's making things themselves and looking individual.

O: What about London style do you wish would just go away?
R: All the people who don't make things [themselves] and look individual!
O: Current obsessions?
R: Herman Dune, silver leggings, Jarvis Cocker! Oh, and Chanel black nail varnish.
O: 5 Things you like about London:
R: Going to gigs, the George and Dragon (my local!), walking around, the parks, all the people I know and love that live in it.

O: 5 people whose wardrobe you'd love to raid:
R: I like my own!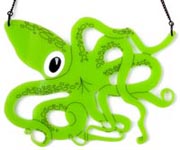 O: 5 brands you can't live without:
R: Eley Kishimoto, Bernhard Wilhelm, Antoni and Alison, Vivienne Westwood, and Bernstock Speirs.

O: 5 things you always carry in my purse:
R: A notebook, pen, lipstick, mirror, tape measure and compass!

O: 5 things you're feeling for Spring 2007:
R: Lots of colour, nostalgia for growing up in the 1970's, disco, glitter balls, and fun.

O: Fashion Dos:
R: Shop in fancy dress shops! Coloured tights and colour co-ordination. Second hand fashion.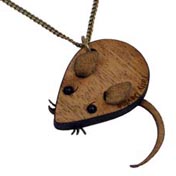 O: Fashion Don'ts:
R: Can't think of any…except maybe thongs, fake orange tans and jeans with special bleach patterns!
O: Little known fact about Tatty Devine?
R: Tatty Devine has over 1000 designs from past collections for sale in their shops.
O: What can we expect next from Tatty Devine?
R: Opening more shops, expanding the Brick Lane shop, designing other lines.
Shop Tatty Devine's latest collection online at http://www.tattydevine.com.


Entry Filed under: Designer Profiles,Features