January 3rd, 2007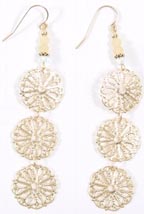 The Sierra Earrings were designed as a custom piece for a redheaded customer who wanted a pair of earrings to match a dress.
The lemon jade and gold in the earrings allows Sierra to be dressed up (with a LBD) or dressed down (with a tee and jeans).
Fun fact about Liz Henry Designs? Christi, the designer behind these elegant earrings, recently adopted a baby from China named Gracie Shan (meaning "Elegant" in Chinese). In honor of her fashionable new baby, Christi just created a line of bath and body products called "Shan by Liz Henry," a portion of the sales from which will go to a non-profit agency that benefits Chinese orphans.

$48 at Liz Henry Jewels.
Entry Filed under: $20-$50,Anniversary,Birthday,Women,Women's Accessories