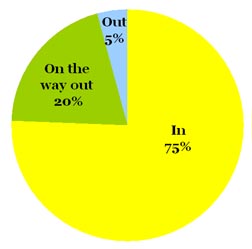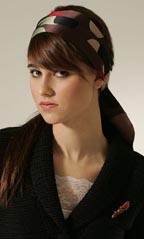 We asked: Are Hairbands In or Out?
You said: We heart hairbands! A whopping 75% majority is sweet on this celeb favorite.

Omiru's take: For party or for play, hairbands are a chic alternative to the standard ponytail (yawn). For a fresh-faced, girl-next-door look, dress up a sweater-and-jeans combo, or add some sparkle to a cocktail dress with a hairband. Just choose a hairband that complements not only your hair color but also your outfit. Our favorite pairings? For blondes, we like turquoise. Brunettes, a pale robin's egg blue. For redheads, a deep green. And for black hair, choose a bright jewel tone, such as emerald.

Next Question: Speaking of jewel colors, they've been popping up on the runways and in store windows across the country. Bright yellow, in particular, has been getting a lot of attention (especially when paired with black and white…yum). But what do You think? Tell us, is Bright Yellow
In, or is it Out? Cast your vote on the sidebar!
Pictured: Eugenia Kim Sonia Headband | $99 at Shopbop.
4 comments January 8th, 2007