January 11th, 2007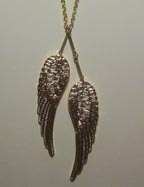 For angelic style at an equally heavenly price, we recommend the Guardian Angel Necklace, available in both gold and silver at SimplyMyStyle.com.
What do we love about SimplyMyStyle, beyond the chic finds at great prices? Founder Angela Blair. She has a silly streak–and holds annual silly string fights on Christmas Eve with her family.

$16.50 at Simply My Style.
Entry Filed under: $10-$20,Birthday,Just Because,Women,Women's Accessories