January 25th, 2007
What does the future of fashion look like? Customized for you, according to Anthony and Amy Pigliacampo of Freddy&Ma. Indeed, the brother-and-sister duo have already turned this idea into reality for the accessories market with their custom handbags. These handbags (generally between $200-$600) are custom designed by the customer and made-to-order, allowing Anthony and Amy to create unique handbags that truly reflect the personal style of the wearer. Read on to learn more from Anthony about the future of fashion, how Freddy&Ma bags are made, and what's next for this forward-thinking fashion brand.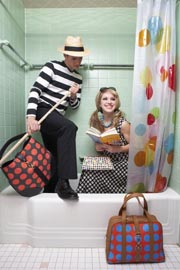 Omiru: Tell us the story of you came up with the idea for Freddy&Ma.
Anthony: I had been working as a design consultant and became very interested in the concept of mass customization. High end products were reaching a saturation point. Everybody had the latest IT bag, which diminishes the cachet of that style. I wondered if it was possible to create a line of handbags where every bag was unique so that you might have the IT style, but each would still be unique from everyone else's. My sister and I also thought that clients would enjoy participating in the design process as it would allow their handbag to have its own creation story.

O: You've already hit upon one of the Next Big Things in fashion: the idea of customization of luxury goods. What other ideas do you think will change the industry in the next five to ten years?
A: I think you will continue to see the fashion becoming more open and more interactive. The popularity of Project Runway illustrates how much consumer desire there is to see "behind the curtain," and I think eventually you will be able to go to a brand's website and see the "behind the scenes" creation of their products. I think you'll also see more integration of fashion and technology, where technology such as advanced websites and body scanning for custom fitted clothing are used to make purchasing fashion items much more of an interactive experience. I hope someday that all of the clothes in my closet will have on some level been constructed to fit me perfectly, and I think technology advances will allow that to happen.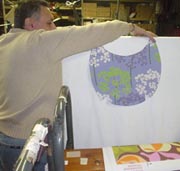 O: Walk us through the production process of making a Freddy&Ma bag.
A: A client designs a bag and orders it on our website. We immediately submit the fabric to the printers to screen the client's design on the fabric. Each fabric panel on our bag is individually printed—we do not stock any of the prints we carry! While the fabric is printing, the leather portions of a bag are sewn together. Once the fabric arrives, it is combined with the leather portions, and all of the finishing and detail work is completed. The bag is then put into a slip cover, packed in an F&M box, and shipped to the customer.
O: How do you find the prints for the bags?
A: We originally placed ads in the NY area to find artists that wanted to submit prints. But since going live with the site, we've received a handful of artist submissions every week. We have been amazed at how many talented designers have contacted us with GREAT designs that they would like featured on our bags.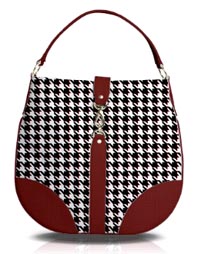 O: What handbag trends are on the way in?
A: Very few brands are paying attention to the smaller "after work" bag. The "hi/lo" concept is also finding its way into the accessory market. [My co-founder] Amy often carries our hobo bag with a Louis Vuitton wallet and $12 credit card organizer from Urban Outfitters that everyone mistakes for Marc Jacobs. Mixing vintage with designer finds and bargain deals is a trend that continues to gain momentum.
O: On the flip side, which handbag trends are on the way out?
A: We see a lot of people still hanging on desperately to the bohemian trend which has definitely passed its moment. Massive amounts of embellishment are also beginning to fade away. It's a continuous cycle. Aside from that, I think that in a market flooded with every imaginable option and influence, women are choosing handbags based on what fits their personal style rather than following set "trends."
O: What's your favorite classic handbag?
A: Why? I love all leather versions of Freddy&Ma silhouettes. They're classic without being boring. In broader terms, every woman should own a Louis Vuitton Speedy in the classic monogram, and a quilted Chanel—the kinds of bags that have been around for so long they truly will never be "out" of style.
O: How about your best fashion tip?
A: Find your style and stick with it. If you find something you like, have someone remake it for you in lots of colors and fabrics.
O: Current obsession?
A: We are currently obsessed with 70's fashion style and have been collecting vintage illustrations to get inspired for a clothing line we would like to do next year.

O: 5 things a woman should always carry in her handbag:

A: An extra $20 bill, rosebud salve, a small sewing kit, mints, and baby wipes.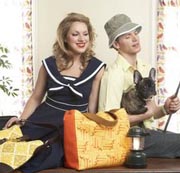 O: Little known fact about Freddy&Ma?
A: Even though we run the company together, Amy lives in New York and I live in San Francisco, which though difficult, gives us a nice West coast/East coast cross perspective on things.

O: Best piece of advice you've received?
A: Everyone can handle success, but the only people who get the chance are the ones who have learned to handle failure.
O: Things you're looking forward to in 2007:
A: We have a retail line of bags that is launching where stores design the specific bags they are ordering. We are very excited to start shipping these styles and see our custom bag concept continue to grow.

O: Last words?
A: Fashion should be about you and your own sense of style. Don't ever be afraid to buck the norm and try something different. Trends all start with one person doing what they want to do.
Custom design your next favorite handbag online at Freddy&Ma.


Entry Filed under: Designer Profiles,Features