They say a picture is worth a thousand words, but in the case of jack&marjorie designer duo Meghan Parsons and Manuel Opp, it also served as inspiration for a handbag and accessories line. After coming across a box of old 1940s photographs, the pair was inspired to create a line made of military surplus materials. In each of their collections, you'll find wool blankets, ground sheets, parachutes, and webbing paired with more feminine elements like vintage lace, silk, brocade and buttons. Meghan shared with Omiru the story behind the jack&marjorie name, why they chose to create with military surplus materials, and how living abroad has shaped their work.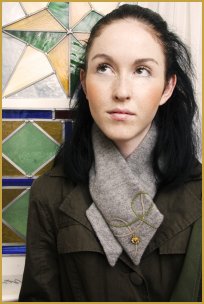 Omiru: Tell us the story behind the jack&marjorie name.

Meghan: Jack and Marjorie Allard were my grandparents on my mother's side. I came across a box of old photographs of them taken in the 1940s, and they inspired the line.
O: Writers often experience writer's block when they run out of ideas. Do you ever experience designer's block?
M: Yes, often we do for a short time, but it never lasts long. As soon as we find some cool new army surplus materials, new ideas emerge.

O: Why combine military surplus materials with feminine lace and silk?

M: Not sure why, but I've always loved army surplus. I just love how it looks. It's really utilitarian and practical, and I love that there's often some sort of a history behind it. As for the feminine elements, it's fun to combine things that are polar opposites and try to make them look cohesive, like they were meant to be paired together.
O: From where do you draw inspiration?

M: A lot of random things inspire
us: cities that we've lived in and visited, Tokyo, Berlin, Barcelona,
old photographs, army surplus, buildings and furniture.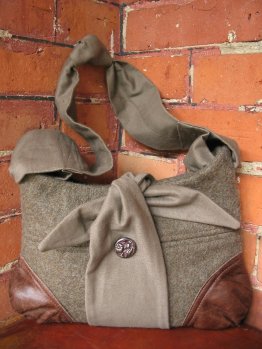 O: You lived in Tokyo before moving to Toronto, Canada. How does the experience of living in Tokyo influence your work?
M: Though Tokyo has been and still is a huge inspiration to us, there weren't any styles in particular that we adopted. I guess it's more of the aesthetic in general. There is just such unbridled creativity there. More specifically, I think the attention to small details and finishing on our bags was really a result of seeing it on a lot of our favorite things in Japan.
O: When it comes to handbags, do you think expensive equals good?
M: Really, it depends on your definition of expensive. In terms of the super-pricey high-end designer bags, I assume for the most part, they are of the highest quality and will last for years and years, so in this way, they're good. Most of them don't excite me design-wise, though. I don't even really feel like we're in the same product category- it's a different universe. In our world, we really struggle with the balance of trying to keep our prices low enough to be accessible to many women, but at the same time keeping up a high standard of quality. We love to use unusual and unique details (like hand stitching, one of a kind vintage buttons and fabric, etc). Add to that the costs of producing a small line like this locally, it's difficult.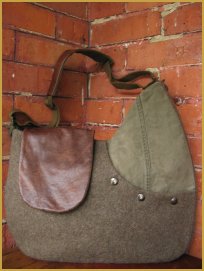 O: Favorite handbag you've ever designed for jack&marjorie?
M: At the moment, it's the Boy Peter (pictured left). Lately, I've been using this bag almost every day. It's very functional, the perfect size for me, and I love how it hugs the body. But I'm hoping it will be de-throned by one of the new spring bags coming out soon!
O: What type of women would you like to be seen carrying your handbags and sporting your accessories?

M: Just women who are carrying it because they love it.

O: Little known fact about jack&marjorie?

M: I'm not sure much of anything IS known! Hmm, maybe that our names aren't Jack and Marjorie, it's just the company name? That is definitely our most-asked question.
O: Where can Omiru readers buy your designs?
M: At the moment, the stores that stock our bags are listed on the website. Online, you can find us at Beklina.com. It's also possible to order bags through us. We promise to get our webshop up and running by the time the spring stuff comes out. In the meantime, send us an email at info at jackandmarjorie dot com. We do sometimes have items in stock that customers can purchase.
Want more? View the latest jack&marjorie collection at http://www.jackandmarjorie.com.
4 comments February 1st, 2007