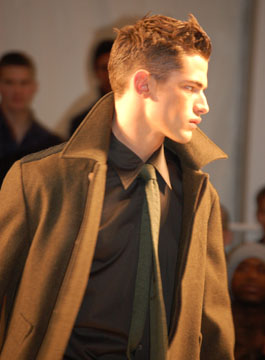 Photo Credit: Omiru: Style for All

Key Takeaways:The Harvard alum stuck to his signature "preppy with a twist" style, showing sweatervests, fair isle sweaters, and turtlenecks fit for a slightly subversive prep school student. Though his silhouettes remained pretty standard, John Bartlett spiced up his menswear collection with rich textures, ranging from velvet to cable knit. Key trends included colorblocking (seen on both sweaters and jackets), sweatervests (a continuing trend), and wide cuffed pants.
Color Palette: Shades of beige, white, black, and greys overshadowed touches of olive green and a splash of red. Colorblocking featured as a central theme in Bartlett's collection.
Silhouettes: Both shirts and sweaters were cut slim, though Bartlett's jackets and coats were more relaxed in fit. Pants ranged from skinny-legged to wide-legged, with the most notable pant detail being the wide turned-up cuffs. Sweatervests and turtleneck sweaters featured prominently. Coats and jackets included 3/4 length styles, aviator styles, (velvet) blazers, and mandarin collared styles.
Accessories Report: Three accessories trends to note: (1) brightly colored socks paired with neutral colored shoes, (2) the skinny tie (a continuing trend), and (3) scarves with a "cuff" detailing.
What's Wearable: Textured sweaters, velvet blazers, and wide legged pants will keep you warm for Fall. Our favorite look? A sweatervest paired with a button-down shirt with the sleeves rolled up.

What's Not Wearable: What not to wear? The plaid suit and the jailbird stripes.
1 comment February 2nd, 2007