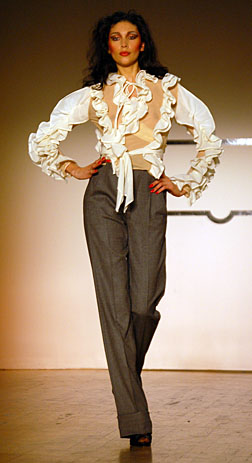 Photo Credit: Omiru: Style for All

Key Takeaways: Designer Grant Krajecki (pronounced "G-r-a-a-n-t" and the inspiration for the line's name) took us into a time machine back to the early 90s and the mid 80s. Fabrics ranged from gauzy and light to shiny and slick to thick and bouclé. Key trends included: high-waisted silhouettes, ruffles, off-the-shoulder and asymmetrical tops, a focus on neutral colors, and metallics.
Color Palette: Greys of all sheens and shades featured in this collection along with strong blacks, maroons, a pale crème-beige and a moody black-gold lamé that puts our early childhood fantasies of being Madonna to shame.
Silhouettes: The modern day version of "Dynasty" — if the women wore more tailored pants and were each a size 0. Grey Ant featured highly tailored pants in charcoal, black, and medium blue denim with a high cut and an intriguing v-cut in the back. Structure was repeated in a broad shoulder silhouette and discarded in a series of oversized sack dresses. Basic off-the-shoulder and asymmetrical tops and dresses rounded out the collection.
Accessories Report: Waists were cinched a bit below the natural waistline with wide belts in a variety of neutral colors (and a high-gloss sheen). Large gold earrings and chunky trapezoidal necklaces framed the models' faces, while the oversized square eyeglasses overpowered those faces in shades of black, red and a funky clear. Hair ranged from 90's stringy and straight to a strangely attractive side hair poof, compliments of the innovative Rusk hair team.
What's Wearable: High-waisted pants work well for those of us with short legs–and we adored the slight v cutout in the back of the jeans.

What's Not Wearable: Avoid the overexuberant shirt ruffles unless you're a world-famous flamenco dancer (or Jack Sparrow).
3 comments February 3rd, 2007