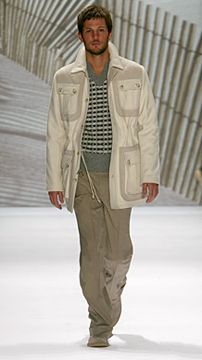 Photo Credit: NewYork Magazine

Key Takeaways: Creative director John Crocco showed a group of clean looks featuring horizontal stripes and cozy wool, thermal and leather pieces that have us dreaming of hot cocoa by the ski lodge fire. Thick knits featured chevrons and other geometric patterns. Rugged models where snuggled under warm winter beanies and sported a "just-in-from-the-cold" makeup scheme of blushed faces and rosy red lips. Key trends included: neutral colors, patterned knit fabric (e.g. cable knit), horizontal stripes, plaid, the sweaterjacket, pocket detailing (on pants and jackets), and high waisted pants.
Color Palette: Classic shades: creamy winter whites, simple blacks and greys were complemented by several tones of steel blue-grey.
Silhouettes: Thick cream cable knits were paired with slim (but not tapered) high-waisted dress pants in strong shades of blue. Suits were cut slim, but not tight, and included vests in contrast fabric. Detailing included leather strips, fur cuffs, and on pants–extra pockets. Bare-chested muscular men in long white underwear reminded us that thermals can be both playful and practical.
Accessories Report: Scarves! This friendly little neck warmer comes in many shapes and sizes, as Crocco cleared showed with several long and short loops of cashmere/wool warmth in oatmeal-type colors. Several large totes in various wool and brown leather were carried down the runway–perfect for the man who has everything–-and needs to carry it on the go. Feet were kept cozy in glossy styles and snug pale blue suede shoes. Hands were covered in sleek black or dark brown leather gloves.
What's Wearable: V-neck cardigans and tailored dress pants are stylishly safe for the elegant contemporary man. We love the stylish 3/4 length coats–and the sweaterjackets–to keep you warm for Fall. The pocket-as-embellishment detailing on pants and jackets is a quiet, but effective way to stand out in a crowd.
What's Not Wearable: We're not a fan of the plaid pants–they're more pajamas than real pants.
3 comments February 5th, 2007