February 5th, 2007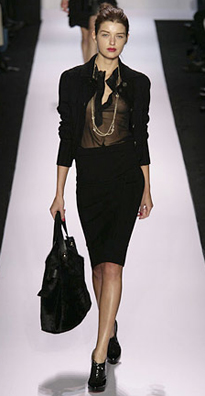 Photo Credit: NewYork Magazine

Key Takeaways: An extremely wearable collection of dresses and playfully elegant looks in simple shapes. Key trends included: colorblocking, high-waisted looks, sweaterjackets, ruffles, bows (on blouses and dresses), and dots.
Color Palette: Black and red dominated the collection, along with grey and turquoise.
Silhouettes: Dresses, dresses, dresses. Diane von Furstenberg's wrap dresses were accompanied by sweaterdresses, tent dresses, kimono sleeved dresses, and bubble dresses. Both big over small and small over big silhouettes were seen on the runway. Loose, breezy jackets accompanied more form fitting dresses.
Accessories Report: Pure elegance–heels with a high vamp, wrist-length gloves, long chain necklaces with jewels, and the oversized bag.
What's Wearable: Sleeved dresses help camoflauge heavy upper arms, and Diane von Furstenberg's signature wrap dresses perfectly complement curvy women. We like the emphasis on print–both the dots and the black and white lacelike prints. Though they might not be warm enough for Fall, we like the sweaterjacket and dress combination for Spring.

What's Not Wearable: The coat with horizonal ruffles, though shown in black, still manages to visually widen the torso. Big over big silhouettes work on the runway–but not on real people.
Entry Filed under: Runway Reviews,Runway Reviews,Trend,Women