February 5th, 2007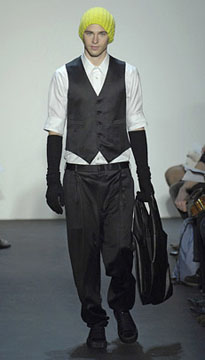 Photo Credit: NewYork Magazine

Key Takeaways: Steven Cox and Daniel Silver of Duckie Brown cheekily juxtaposed streetwear with suits for Fall 2007. Key trends included: colorblocking, skinny pants, wide pants, plaid patterns, colored gloves, and the pointed beanie.
Color Palette: Dark; blacks and browns were accented by touches of bright orange, green, turquoise and yellow. Plaid patterned tops were featured with dark colored trousers.
Silhouette: Blazers were cut exclusively with two buttons. Loose fitting coats and jackets were paired with skinny pants for a big-over-small look. Two other garment classifications of note: the vest and the shrunken blazer.
Accessories Report: Colorful gloves and bright (pointed) beanie hats.
What's Wearable: We're all over Duckie Brown's brightly colored accessories, which make wearing bright colors more accessible to men. For more adventurous types, we recommend Duckie Brown's green overcoat, paired with grey and muted denim. Style tip from Duckie Brown? Push up the sleeves on a long sleeve shirt–but keep the cuffs showing.
What's Not Wearable: As we noted at Buckler, underwear as outerwear is just not a good idea. A turtleneck and beanie combo needs a pair of pants to make it complete.
Entry Filed under: Men,Runway Reviews,Runway Reviews,Trend