February 6th, 2007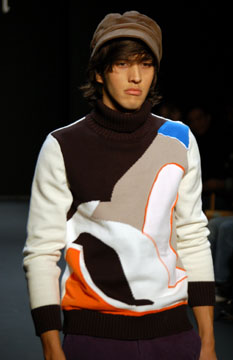 Photo Credit: Omiru: Style for All

Key Takeaways: As the first designer from Mainland China to present at New York Fashion Week, Mr. Cabbeen shows us just how funky, modern and colorful Chinese fashion has become. Wearable everyday bombers in twill and nylon were paired with carefree trousers and jeans and laid-back black trainers with painted or embroidered embellishment. Fabric choices ranged from plaid to chevron to pinstripe.
Color Palette: A rainbow of colors ranging from the requisite grey, navy and black to pale yellow, maroon and army green. Colorblocking and plaid fabrics featured prominently in the collection.
Silhouette: Relaxed on top with long and lean hoodies and tanks paired under comfy jackets and casually fitted pants and jeans.
Accessories Report: Scarves and striped ties adorned the necks of most models. Most also sported black trainers or roll-top ankle boots in neutral colors.
What's Wearable: For the guy with a bit of fashion-funk, we recommend the robin's egg blue jacket with cherry blossom embroidery to catch the eye of any lucky lady (or lad).
What's Not Wearable: If it's over 20 degrees where you live and the sun is shining, steer clear of the oil-slick inspired puffer jackets so as not to blind innocent bystanders.
Entry Filed under: Men,Runway Reviews,Runway Reviews,Trend