February 6th, 2007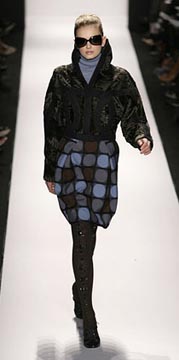 Photo Credit: NewYork Magazine

Key Takeaways: A real departure from Carolina Herrera's typical sweetly light collections. Dresses and separates maintained the designer's signature elegance, but overlaid a sense of darkness and mystery. Key trends included: high-waisted silhouettes, geometric patterns, bows, open knit fabric, plaid fabric, ruffles, and fur.
Color Palette: Heavy on dark colors–blacks and greys. Brooding browns and regal lilacs were lightened with shades of white, splashes of red, and metallic silver. Both fur and geometric patterns–most notably plaid and dots–featured prominently.

Silhouettes: Generally high-waisted, with an emphasis on the natural waistline. Garment volume felt measured and made to flatter the body. Sleek dresses were complemented by swingy frocks, paired with patterned leggings. High-waisted skirts and trousers were paired with open knit tops, sweaterjackets, and semi-voluminous jackets.
Accessories Report: Black elbow-length gloves and patterned tights emphasized the dark, yet ladylike feel of the collection. Wide belts drew emphasis to the waistline. Bug-eyed sunglasses completed the chicly mysterious looks.
What's Wearable: Carolina Herrera knows how to flatter a woman's body–try the sleek dresses, the subtly voluminous skirts, the swingy oversized jackets, and the high-waisted trousers. The sleeved dresses are perfect for women with thick upper arms.
What's Not Wearable: Fur played a large part in the collection–both as jackets and as cuffs, but we prefer to leave fur on our animal friends. Horizontal "striping" through fabric detailing visually widens the body–beware.
Entry Filed under: Runway Reviews,Runway Reviews,Trend,Women