February 6th, 2007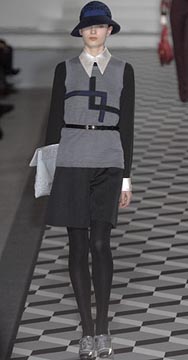 Photo Credit: New York Magazine
Key Takeaways: Unlike his Fall 2006 collection, which featured heavy layering, Marc Jacobs' Gatsby-esque Fall 2007 collection featured long and lean silhouettes plucked out of the 1920s. Key trends included: menswear as womenswear, slim, boyish silhouettes, high-waisted silhouettes, colorblocking, colorful accessories, and metallic shine.
Color Palette: Traditional fall: orange, navy blue, grey, mustard yellow, maroon, eggplant purple, metallic silver, and shades of white and black. Colorblocking featured prominently.
Silhouette: Nothing Marc showed was too tight or too voluminous–the silhouette was slim, but workable for Real People. Menswear as womenswear featured prominently, with tuxedo-style suits complete with vests, skinny ties, and shrunken jackets. Calling an end to the skinny-jeans-fad, Marc cut his trousers bootcut. Loosely pleated skirts and wide-legged shorts were paired with long sweaters, always belted at the waist. Boatneck styles hinted at the nautical, along with crisp white pants and navy buttoned jackets. Detailing to note: pointed collars, the tiered, tailored ruffling, oversized collars, and bows.
Accessories Report: Wide-brimmed and cloche hats adorned the models' heads. Belts were key in nearly every outfit, delicately hinting at boyish figures. Oversized clutches and gloves–both wrist length and elbow length–added ladylike drama to daytime attire.
What's Wearable: Unusually, almost every piece in Marc's collection can be translated onto the streets. The cocktail dresses are perfect for gals who want to be a bit eclectic, while the suit combinations will work well for business-savvy women who want that intellligently chic look.
What's Not Wearable: Keep the flying-saucer hats on the runway…or to where you want to make a fashion Statement.
Entry Filed under: Runway Reviews,Women