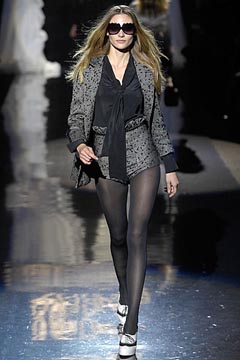 Photo Credit: Style.com
Key Takeaways: Has Betsey Johnson grown up? If the
answer lies in her Fall 2007 collection, then the answer is a resounding yes! Betsey is known for
her flirty, flamboyant and oh-so-girly dresses, but this time around, she toned it
down—way down—and went the menswear-as-womenswear route. Key pieces seen on her
brooding runway included high-waisted shorts, men's socks worn with loafers and
voluminous coats.
Color Palette: So unlike Betsey, but the majority of the
colors in this collection were dark: navy blue, black, grey, brown, green, and dark purple. White, gold, and light pink did their part to lighten the palette.

Silhouette: Betsey usually either does hideously voluminous
or suffocatingly tight. But this time around, her silhouettes were airy but in a wearable way. We spotted puff sleeves, high-waisted shorts, Betty Page-esque high cut
shorts, button-down silk shirts, knit skirts, ruffles, babydoll dresses,
tie-front blouses, and high-waisted trousers.
Accessories Report: Short white gloves, men's socks,
loafers, white and black opaque tights, white square mod sunglasses, thin
belts, cloche hats.
What's Wearable: Besides the French maid outfits at the
beginning, most pieces in Betsey's collection were surprisingly wearable. Especially
translatable to the streets was the brown crew neck long-sleeve knit dress and the tie-front
blouses.
What's Not Wearable: Unless it's your Halloween costume,
stay away from the French maid costume. Don't try the multi-colored
striped boatneck dress, lest you aspire to be a walking piñata. And the
Betty Page short shorts are better suited for professional Burlesque dancers.
4 comments February 7th, 2007