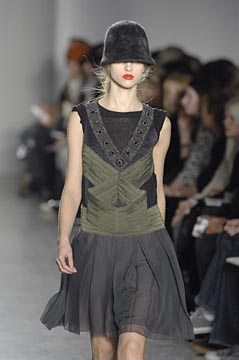 Photo Credit: NewYork Magazine

Key Takeaways: Like Marc Jacobs, Lazaro Hernandez and Jack McCollough reached back to the 1920s for inspiration. Cloche hats topped off vaguely masculine silhouettes, full of flat-chested tops and dresses. A dash of 80s style–broad shoulders and pouf sleeves–added to the distinctly retro feel of this collection. Key trends included: menswear as womenswear, voluminous sleeves, knee-length skirts and dresses, and fur.
Color Palette: Blacks and greys mixed with olive green, a dusky red, and a deep blue. Sequins and shine, as appropriate for the 1920s/1980s theme, appeared on a number of the looks.
Silhouettes: Masculine silhouettes predominated in this 1920s/1980s mix. Boyish, flat-chested looks were interspersed with the broad shoulders and poufy sleeves. Garment classifications included wide pants, knee-length skirts, drop-waist dresses, and bustier dresses. Of note were the geometric fabric pattern "ribbons" decorating the dresses.
Accessories Report: Cloche hats and a heavy use of belts, which sat at the natural waistline.
What's Wearable: The collection's 1920's inspired pieces are great for women with boyish figures, as they are designed to minimize the bust. For more curvy women, the wide trousers will help balance the upper and lower body.

What's Not Wearable: The exaggerated poufy sleeve is difficult for real women (and even models) to pull off successfully.
1 comment February 8th, 2007