February 8th, 2007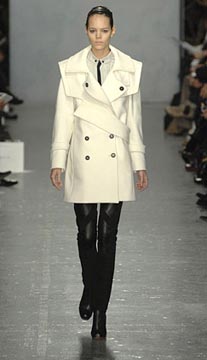 Photo Credit: NewYork Magazine

Key Takeaways: Derek Lam jumped on the 1980s bandwagon with skinny riding pants, off-the-shoulder tops, broad shoulders, oversized coats, and asymmetric draping.
Color Palette: Black, white, grey, and shades of brown were accented with blue and gold. Plaid patterns featured prominently.
Silhouettes: Big on top, small on bottom. Broad shoulders, oversized outerwear, kimono sleeves, and off-the-shoulder tops were paired with legging-style pants and short, swingy skirts. Cocktail dresses featured asymmetric draping, 80s style. Detailing to note: zipper details, oversized collars, metallic shine, plaid, and decorative pockets.
Accessories Report: Boots and belts accessorized the 80s style outfits coming down the runway.
What's Wearable: Kimono sleeves work well to camouflage thick upper arms, and broad shoulders help balance wide hips.
What's Not Wearable: Horizontal stripes only visually widen your body, and the severe, skinny riding pants will only work on stick-thin women.
Entry Filed under: Runway Reviews,Runway Reviews,Trend,Women