February 8th, 2007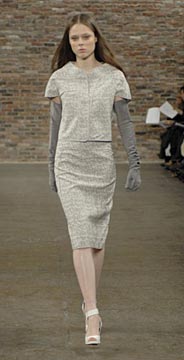 Photo Credit: NewYork Magazine

Key Takeaways: Narciso Rodriguez has been experimenting with the same sleek, structured forms for the last few years, but his work appears fresh and innovative against a backdrop of designers moving from layering and volume to a long and lean silhouette. Key trends for both men and women included: slim silhouettes, geometric patterns, and colorblocking. Key women's trends included sleeved and asymmetrical dresses and long gloves.
Color Palette: Black, grey,beige, and white were spruced up by teal and a dusky emerald green. Colorblocking added a graphic feel to the collection.

Silhouettes: With touches of 60s elegance, Narciso showed slightly big over small, or small over slightly big silhouettes. Overall, the looks were long and lean, with precise tailoring for a snug fit. Structured coats skimmed over skinny pants and dresses. As a nod to seasons past, Narciso showed a few body-hugging, empire waist sleeveless dresses. Other dress trends to note included sleeved dresses and asymmetrical frocks. For men, the look was either slim all over or slightly big over small. Of note was a "paint splattered" graphic print tee–a departure from Narciso's past menswear.
Accessories Report: For women, the big accessory was long gloves; for men, it was the skinny tie.
What's Wearable: For women (with a slightly curvy figure), we love Narciso's signature body-hugging empire-waist dresses. Silhouette-wise, it's tough to go wrong with the slightly big over small and the small over slightly big silhouettes. For men, the slim cut suits with skinny ties are great for adding visual height.
What's Not Wearable: For women, avoid dresses and skirts that hit you at mid-calf, as the awkward length visually shortens you. For men, steer clear of pants with tiny patterns–they look more like pajamas than street pants.
Entry Filed under: Men,Runway Reviews,Runway Reviews,Runway Reviews,Trend,Women