February 8th, 2007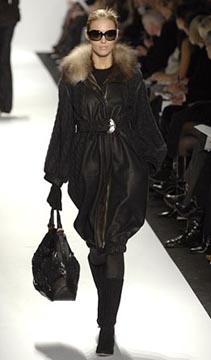 Photo Credit: NewYork Magazine

Key Takeaways: As expected for Oscar de la Renta, the show exuded unadulterated luxury–for both young and old. Key trends included: fur, controlled volume, embroidery, shine (sequins and metallic fabrics), ruffles, and geometric patterns.
Color Palette: Earthy with blacks, chocolate browns, and greys, accented by jewel tones of deep purple and ruby. Metallic sheen made an appearance, as did shiny sequins.
Silhouettes: Controlled volume at the waistline, hemline, and sleeves. Outfits were gently cinched at the waist with seamlines and belts. Voluminous coats felt wearable, with the shape not overly exaggerated. Oscar fell in line with the sleeved dress trend, but upped the drama factor with asymmetric styles.
Accessories Report: Belts drew attention to the waistline. Bug eyed sunglasses shaded the models' eyes, while fabric-covered bulbous necklaces adorned their necks. We noted the occasional fur hat, along with handbags with chain straps. Tights were layered under Oscar's dresses and separates, as appropriate for cooler temperatures.
What's Wearable: Small geometric patterns work well to disguise problem areas. We loved the oversized collars, which draw attention to and frame the face. Sweaterjackets provide an unstructured alternative to traditional winter outerwear. Bottoms, which sat at the natural waistline, will flatter those with long torsos and short legs.
What's Not Wearable: Fur made too many appearances on the runway for our taste. Besides, didn't we all decide that Fur is Out?
Entry Filed under: Runway Reviews,Runway Reviews,Trend,Women