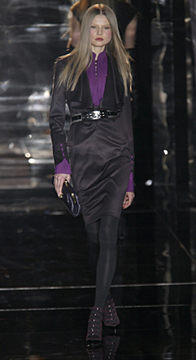 Photo Credit: NewYork Magazine

Key Takeaways: Zac Posen's focused his 1940s tailoring sensibility on polished jackets, suits, and his signature dresses. Silhouettes were generally slim, though Zac shook things up with volume added in just the right places.
Color Palette: Black, black, and more black, with greys, white, and shots of royal purple and blood red.
Silhouettes: Zac Posen showed mainly big-over-small silhouettes,such as a voluminous military kimono sleeved coat with a slim skirt. Pants were skinny and high-waisted. A number of babydoll looks, complete with ruffles and volume, made their way onto the runway. Fitted cocktail looks were ruffled and featured sheer-over-solid layering. Zac's signature eveningwear featured curve-hugging gowns with fishtail hemlines. Detailing to note included oversized collars, ruffles, and pocket and tab detailing.
Accessories Report: Long, elbow length black gloves accessorized the sexy, tailored looks.

What's Wearable: One of our favorite looks was a peach-pink ruffled blouse with flutter sleeves paired with a burgundy tulip skirt. We also loved a cropped ruffled black jacket paired with an above-the-knee skirt.

What's Not Wearable: A poufy fur coat with ruffled, horizontal detailing–tough for a stick-thin model to pull off, near impossible for Real Women to wear.

3 comments February 9th, 2007