February 9th, 2007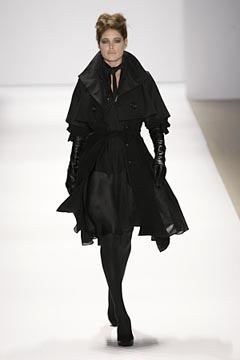 Photo Credit: NewYork Magazine

Key Takeaways: Shorter and sexier, Doo Ri Chung's Fall 2007 collection mixes her signature architectural draping with a darker edge.

Color Palette: Black, with touches of gray and navy, and bursts of yellow, teal, and bourdeaux. In keeping with the metallic trend of Fall 2007, shiny sequins made their appearance as well.
Silhouettes: In a word, short. Doo Ri's signature draped dresses, paired with dark tights, hit above mid thigh. Skinny, high waisted pants and skirts with bubble hems were paired with babydoll shapes and capelets. Detailing included fur, lace, and bows.
Accessories Report: Smolderingly sexy elbow-length black gloves were the standout accessory of this collection.
What's Wearable: Cap sleeves and kimono sleeves favor those who want to cover up heavy upper arms.

What's Not Wearable: We love Doo Ri's draped dresses, but they're cut too short to be worn without pants off the runway.
Entry Filed under: Runway Reviews,Runway Reviews,Trend,Women