February 9th, 2007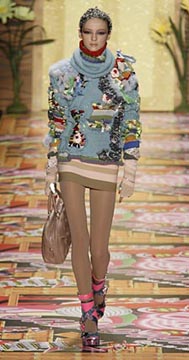 Photo Credit: NewYork Magazine

Key Takeaways: In a season of intense wearability (hello, Betsey Johnson), we took an intermission at Heatherette, where we saw no shortage of neon colors, fanciful silhouettes, and eclectic detailing. Lots of layering, hordes of warming sweaters, some punk and some ski-inspired looks made their way down the purposefully wild runway. If a skier and a punk-rocker fought each other in a deathmatch, their remains would resemble the Heatherette Fall 2007 show.

Color Palette: Every color under the sun, including purple, bright blue, neon yellow, red, hot pink, silver and gold.
Silhouette: Equally voluminous and skin-tight. Voluminous looks included bubble skirts, sweaters, ponchos, zip-up hoodies, and Tarzan dresses. Streamlined looks included high-waisted skirts, short shorts, leather bathing suits, and leather pants.
Accessories Report: Sheer tights, ankle boots, layered and chunky bangles, and hats.
What's Wearable: Almost nothing in Heatherette's collection is directly translatable to the streets. But then again, do Traver Rains and Richie Rich really design for the common folk?
What's Not Wearable: We'd like to point out the Dorothy-inspired costume and the leather accessories (which scream S&M).
Entry Filed under: Men,Runway Reviews,Runway Reviews,Runway Reviews,Trend,Women